I've always lusted wildly after an Xtracycle but I don't have a bike that would be very good with a Free Radical (my Motobecane commuter becomes a noodle with a moderately loaded BOB trailer) and something like the Big Dummy is too expensive for me at this time. Imagine my excitement when Steve told me about a new bike from Sun, the ATLAS Cargo (unnecessary capitalization mine) – a 55-lb roving bridge truss of ChroMo which is only $700. By June of last year he had one in person at the shop and it was awesome.
After securing a job for the semester and feeling out that Susan wouldn't kill me for getting another bike, I went for it. Henry at There and Back was able to get me one and have assembled and ready to go in only a couple days. After a little fumbling for fit, I took it up "A" Mountain. To my surprise it was insanely easy, no doubt owing to the obnoxiously low gearing (22 in front, 34 in back on 26″ wheels) that is available.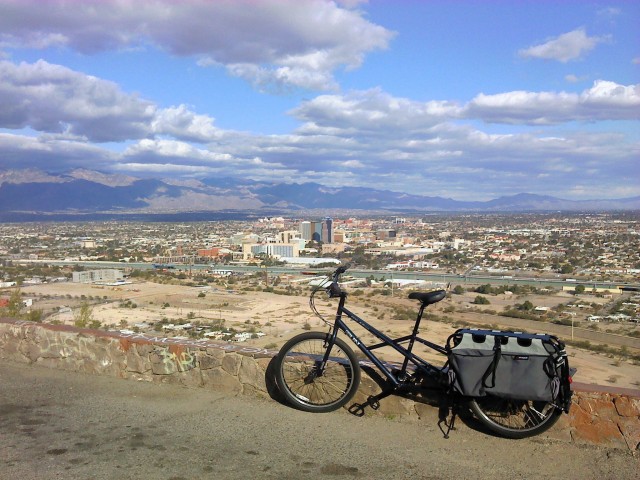 Of course I had to get my old bike home, that was pretty fun too…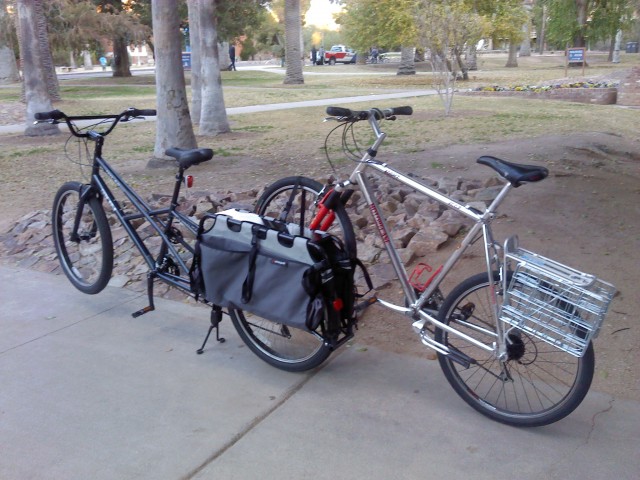 My first grocery trip was a breeze. Six bags fit very easily in the bags and the bike's handling was totally unaffected. Not sure how much more I could fit, the bags expand further but then I might be spilling groceries out on the road since they become less encompassing as they expand.