Yellowstone to Miles City KOA, MT
Unfortunately my pre-expedition adventure has come to an end. Leaving Yellowstone, I hopped on the interstate, set the cruise at 60 (mileage = yummy) and cruised towards Winnipeg.
Along the way I made one last attempt at a cool blurry-water picture, but it also didn't turn out too well. Seems like you need to do it in fairly low light to have the exposure work with the slow shudder speed.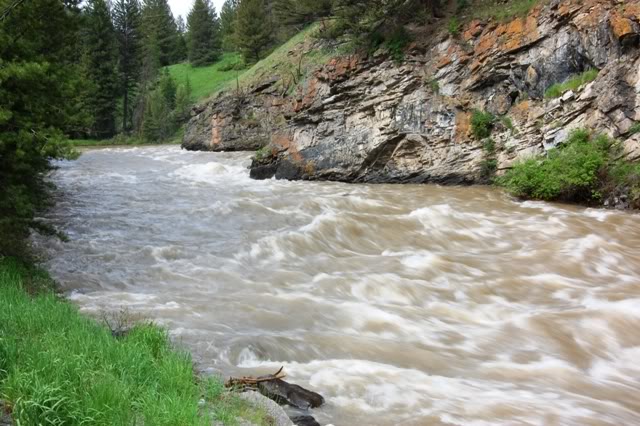 There is very little to report from the interstate. I was in the musical mood and sang along with Wicked, Rent, Phantom of the Opera, and The Last Five Years… but otherwise a pretty uninteresting day.
I didn't really have a plan for the night, so when I saw KOA signs I figured I'd give it a go. I do love having a shower and internet! The lady at the front desk was very nice and we talked about the Continental Divide expedition for a while before she gave me 25% off and a free ice cream sandwhich. The roof top tent was again a big hit with the old women in RV's and I had many converstaions about it, most of them starting with "oh my God what is that?!?!" or "Wow, I've never seen that before BYAH!"
In the middle of fiddling on the web, water began to fall from the sky unexpectedly. I'm not sure why I hadn't thought of that, but I hadn't. I scrambled to restore the rain fly I'd ripped off in the hurricane winds of Utah and settled down for my first (and hopefully dry) night in the roof top tent in the rain…