Atlantic City, WY to Rawlins, WY (RV WORLD RAAWWRRRR!!!)
The day in Atlantic City began with…. MAN BREAKFAST. Not really anything special, just eggs, toast, OJ, and Red Hot, but still quite a bit manlier than cereal or something. This also gave me a chance to test out my $2 toast thingy, which in fact works quite well.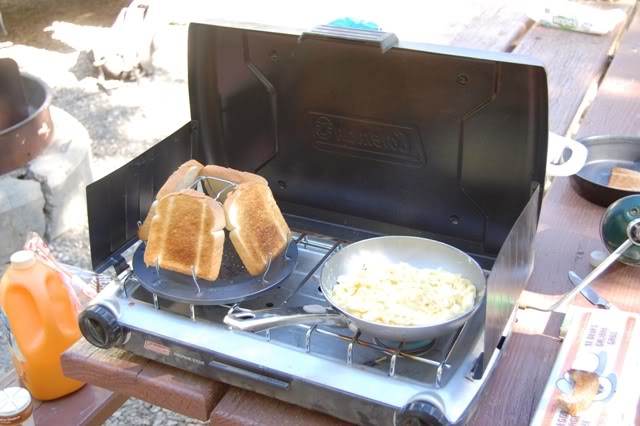 On the way out of town, Lance was a bit concerned about his fuel level and rumor had it there was a man down the street who sold gas. Sure enough, around the corner was a gas sign and a bunch of folks sitting on a porch. Wild Bill (I don't know if that's his name or just what we called him) had regular for $6 a gallon. Whew!! Well, I guess you can do that in such a market.
Michael went up to talk to Wild Bill and the joke was that since they were both gruff looking guys with big white beards, they must have been trying to outdo each other with stories of wrestling alligators or being electrocuted in Turkish prisons…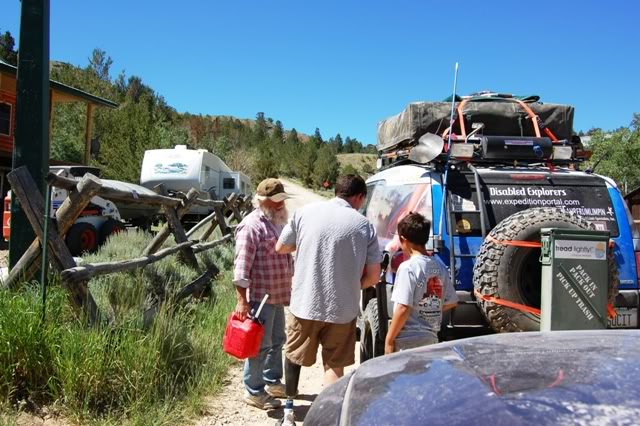 Back on the road, the terrain had flattened out into big grassy plains. Not many opportunities for photographic splendor on this day. We did, however, run into super cool overland motorcycle dude! He said he posts on advrider.com, but we didn't quite catch his forum name.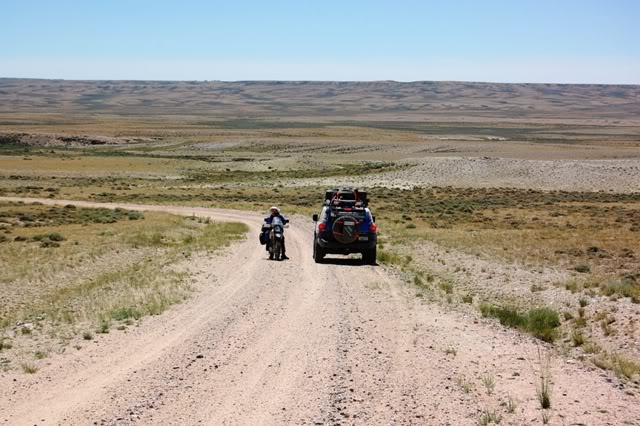 Sagebrush, sagebrush, dead tree, sagebrush, sagebrush, sagebrush…. log cabin!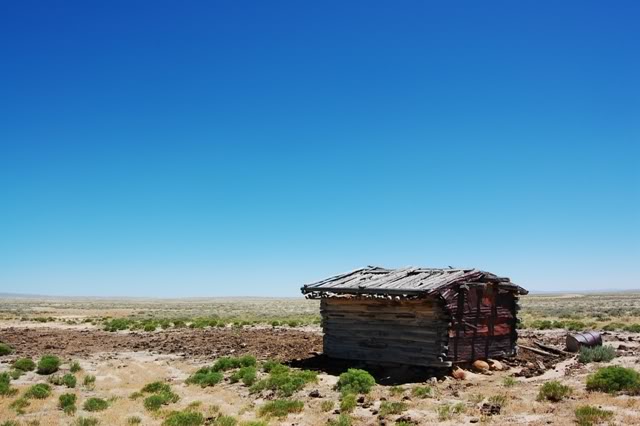 The real story for this day (and perhaps one of the most humorous of the trip) was our night in the lovely and enchanting town of Rawlins, WY. We wanted to get some internet access to update websites and the like and in general the only place to do that (other than KOA which was not available there) is some kind of wretched RV park… And when searching for wretched RV parks, how can you pass up one called RV WORLD!!!!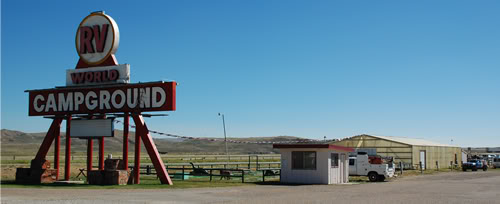 Image credit: 1leglance
They didn't have much in the way of tent sites, so the owner let us camp out back next to his collection of huge and useless machinery. There was a nice, flat, grassy area right next to an old bulldozer that we called home for the night.
After a brief visit to the broken-down-greenhouse-turned-pool (visible in above pic) which included such fun as Martin splashing water into Lance's computer, we head over to… the put-put course. I don't care what anyone says, put-put golf is one of the most hardcore overland expedition recreational activities possible. Unfortunately, it was the single most uncreative minigolf course I'd ever seen or imagined, with only about 5 unique holes of the 18. They just sort of repeated a few shapes several times. Regardless, it was great fun. Martin had befriended a family of kids in the pool and they played along with us. And while everybody talked a big game, my minigolf skills could not be toppled.
While the premise of staying at such a place was internet access, I accomplished nothing in the way of computer work. Rather, I spent the whole night taking everything out of my truck several times in search of my note-taking journal for the entire trip which completely vanished. I never did find it, which really sucked. Names of places and tons of little anecdotes…. gone!