AZFJ Mod Party at homedad's
I jumped at the news of a mod party since my truck is in pretty bad shape these days. One of my rear FOX 2.0 shocks is completely blown, the other is leaking, one of the front FOX 2.5′s is blown making the truck sit with a hilarious lean, my HID's aren't installed or hooked up, dual battery system is damaged, no radios hooked up, etc. I also picked up a bike rack off CraigsList that, while intended to be mounted in the bed of a pickup truck, would work great on my roof. I figured if I could mount the rack somehow and swap out my suspension for whatever crap I have laying around, it would be a good day. Luckily I've got a few different suspensions laying around the shed for a rainy day, be it my rainy day or somebody else's.
Thanks to the quick thinking resourcefulness of 'clutch burner' we got the bike rack on no problem!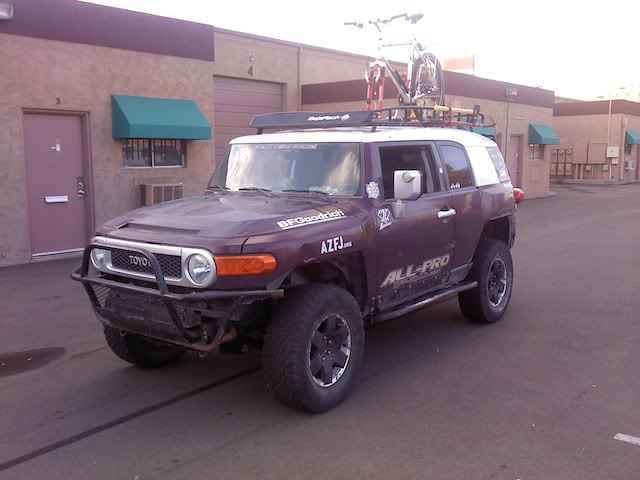 The suspension was a bit of a pain since the FOX stuff has been on there for about 18 months. My preferred method for disassembling the front is to undo the upper control arm ball joints, but they would have none of it. After wasting some time, I just unbolted the lowers like everybody else wanted to do in the first place. Ah well, it was done quick after that. Somehow I drove away with Kurt's brand new sway bar installed – an added bonus! With the frequency of my wheeling taking a massive downturn lately, I've been slowly reinstalling practical things like the sway bars and rear seats since there's currently no reason not to have them.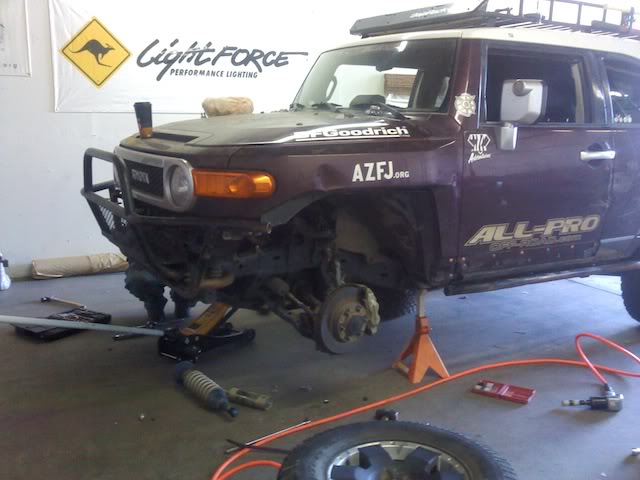 It looks it's going to cost me a good few hundred bucks to rebuild the FOX stuff… Considering I haven't been wheeling much and secretly want a long travel setup anyway, I'm strongly considering selling them. Pocketing their value would be pretty nice.